Global Connect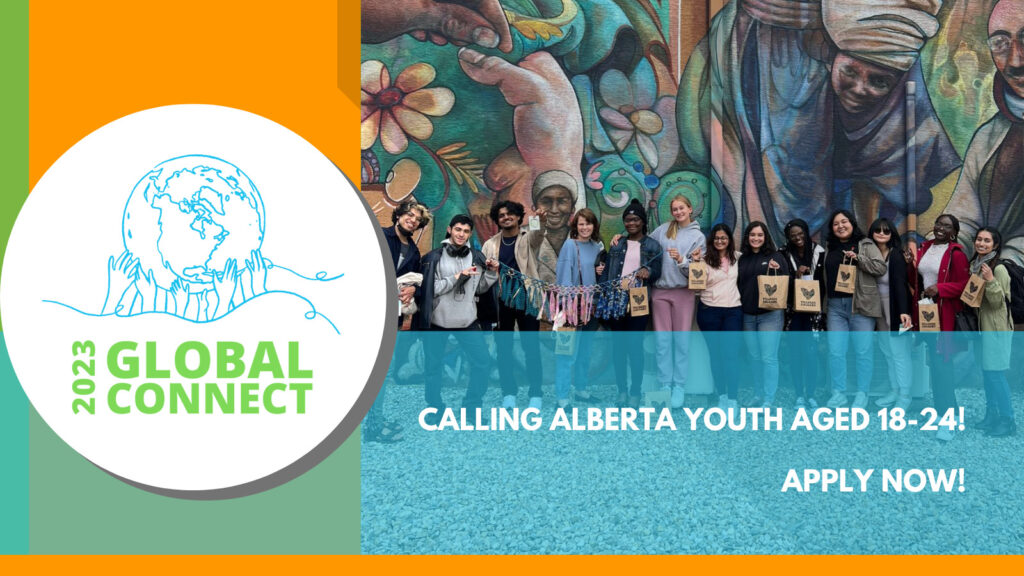 From May 22 to June 1, we will explore international cooperation together with youth participants 18 to 24 years of age through themes of sustainability, gender equality, and a range of local/global issues—right here in Alberta!
We partner with our members and other projects and initiatives through dialogue and practical hands-on learning. Over the summer and into the fall, Global Connect participants will implement public engagement activities by opening up conversations around some of the lessons learned throughout the Global Connect experience.
Applications for Global Connect 2023 will open on March 9th and close on April 10th, at 11:59PM MST.
Apply here!
If you have questions about the application, please contact ACGC's Global Citizenship Education Lead, Wajed El-Halabi, at wajed.el-halabi@acgc.ca or projects@acgc.ca, or call 780-988-0200.
How to Apply
Eligibility
Applicants must be:
18-24 years of age as of April 1, 2023
Residents of Alberta
Able to demonstrate current commitment to international cooperation
Available for the complete duration of the program
Available for alternative program dates (if necessary)
Willing to help design and implement public engagement initiatives during and following the program (with support from ACGC staff)
ACGC strives to create an inclusive and welcoming space through this program. ACGC welcomes applicants who bring diverse perspectives to this program and who may be a member of an underrepresented group. Prioritization will be given to newcomer youth with lived experience in a developing country in order to provide deeper discussion on the realities faced by communities in the Global South. (See list of countries here). Should you face barriers to participation, or have concerns about your ability to full participate, please indicate in your application, or direct questions to the contact provided.
Program Logistics
The program includes 3 stages: orientation and teambuilding (virtual); in-person learning tour (12 days in person); and a public engagement project component.
Travel, food, and accommodation throughout the program will be provided. Accommodation may include a mix of hotel, hostels, and camping where accommodation will be shared with other participants.
Schedule
Monday May 22nd: Arrival in Calgary
Tuesday, May 23nd – 25th: Visit organizations around Calgary
Friday May 26th – Sunday May 28th: Outing, travel to Edmonton
Monday May 29 – Wednesday May 31st: Visit organizations in Edmonton
Thursday 1 June: Travel home day
Cost
Thanks to funding provided by Global Affairs Canada, this program has no fee, and all travel, accommodation, and food during the program is covered for selected participants.
Personal expenses such as personal care items, medication, snacks are not covered. Transport to and from the program drop-off point are are not covered. For those facing financial barriers, ACGC is committed to working with you to address these costs should they hinder your ability to participate.
Health Measures
ACGC prioritizes the safety and security of our participants, staff, and facilitators. At a minimum, the following risk-mitigation measures are planned to ensure a successful and safe program:
All applicable Government of Alberta health and safety requirements at the time of the program will be adhered to and enforced.
ACGC will have available masks, and hand sanitizer for use in the program should it be deemed necessary to ensure the safety of participants at the time of the activity and in line with current health guidelines.
Should someone fall ill during the program, ACGC will work with the participant to provide appropriate health care
Additional Safety Protocols:
The program is being designed with the use of outdoor/open-air spaces as much as possible.
All participants will be required to sign a consent form detailing the final safety protocols in place for this in-person program.
ACGC aims to create an organizational environment free from sexual misconduct, harassment and abuse. Participants will be asked to sign a code of conduct outlining expectations to ensure a positive experience for all.
Cancellation or Changes:
ACGC is committed to open communication with participants. ACGC reserves the right to alter or cancel the program in order to ensure compliance with public health and safety measures.
ACGC will not penalize any participant who may wish to withdraw their participation at any time due to health and safety concerns, or other personal reasons. Logistical decisions regarding site visits and any day trips or overnight trips within Alberta will be made by May 1. Should you have any questions or concerns about the health protocols, please do not hesitate to contact ACGC's Global Citizenship Education Lead, Wajed El-Halabi, at wajed.el-halabi@acgc.ca.
---
Past Programs
ACGC has been running youth experiential learning programs since 2010, previously called the 'Change Your World Youth Leadership Program'.
2010: Ethiopia with Canadian Humanitarian
2012: Peru with Sombrilla International Development Society
2013: Nicaragua with Change for Children Association
2015: South Africa with Keiskamma Canada Foundation
2017: Uganda with Mennonite Central Committee Alberta
2022: Global Connect 2023 in Alberta
In the past, youth travelled internationally to visit international development projects run collaboratively by ACGC's partner organizations. Beginning last year, with limits on international travel, we started taking a new approach!
Global Connect 2022 Site Visits:
Advancing Canadian Wastewater Assets (ACWA)
Alinea International
Billie Fortier, Lawyer, MLT Aikins LLP, Calgary
Canadian Foodgrains Bank
Canadian Volunteers United in Action Society – Associations des Volontaires unis dans l'action au Canada (CANAVUA)
The Colombian Coffee Bar & Roastery
Canadian Women for Women in Afghanistan (CW4W)
Centre for Affordable Water Technology (CAWST)
Professor Dwayne Donald, Curriculum studies and Indigenous wisdom traditions, University of Alberta
Earth Group
Islamic Family and Social Services Association (IFSSA)
Journey 2050 (Nutrien and Calgary Stampede)
Mennonite Central Committee
Operation Eyesight
Painted Warriors
Samaritan's Purse
School of Public Policy, University of Calgary
Sihle-Sizwe Vineyard Foundation
Ukrainian Resource and Development Centre (URDC), MacEwan University
in partnership with Ukrainian Catholic University, Lviv
Villages Calgary
Water Movement
Wilder Institute, Calgary Zoo
See videos from past years here.
---
About ACGC
The Alberta Council for Global Cooperation (ACGC) is a coalition organization with over 40 members focused on sustainable development and global citizenship. We aim to mobilize Albertans (like you!) to become more active global citizens engaged in sustainable development and gender equality, especially through increasing awareness, sharing knowledge, and strengthening connections to mobilize for global issues.
Our values include respect, inclusiveness, equality, empowerment, human rights, collaboration, accountability, transparency, sustainability, and mutual learning.