International Development Week

International Development Week (IDW) is an opportunity to explore how Canada and Canadians are making a difference around the world!
This year's IDW took place from February 5-11, 2023. Learn about International Development Week across Canada and read about the events that were organized and hosted by ACGC and our members below!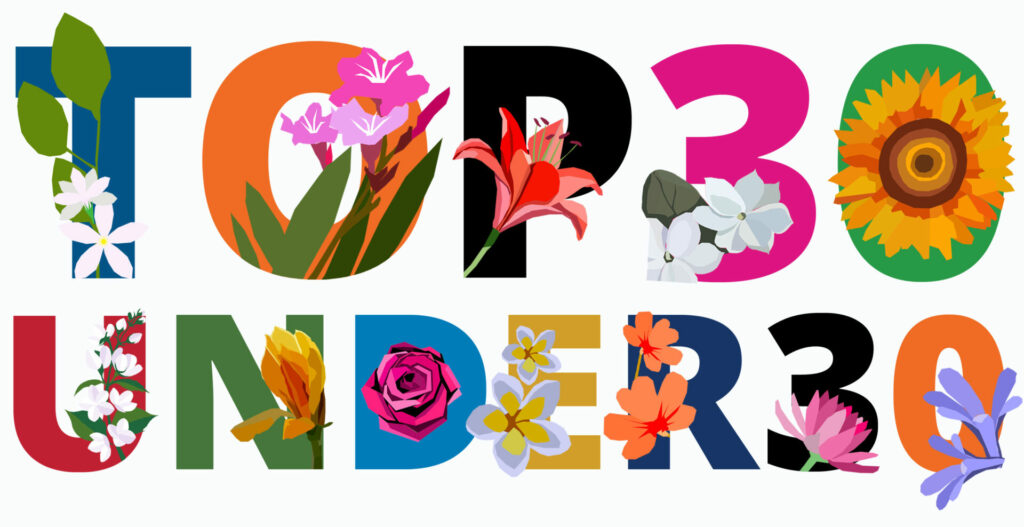 DATE: Thursday, February 9th
TIME: 6:15-8:30pm
LOCATION: Calgary Central Library
COST: Free.
ACGC's 2023 Top 30 Under 30 Celebration Event took place on Thursday, February 9th from 6:15-8:30 PM (MST) at the Central Library in Calgary, AB.
Hosted by dynamic sibling duo, and Top 30 Under 30 alumni, Ibrahim Sadiq and Ganiyat Sadiq, the evening featured speeches from leaders, and this year's Top 30 Under 30 award recipients. There was also a keynote address by Poornima Sukumar, the founder of the Aravani Art Project, a trans-women and cis-women led art collective based in India that created this year's campaign art. The formal program was followed by networking with light refreshments served.
All were welcome to attend this free event.
About the Top 30 Under 30 Award: The Top 30 Under 30 Award is an annual campaign by the Alberta Council for Global Cooperation, supported by Global Affairs Canada as part of Canada's International Development Week. The award features 30 outstanding young people, nominated by their community and selected by a committee of peers, for their commendable work in making the world a more just, fair, and sustainable place for all.
About the Aravani Art Project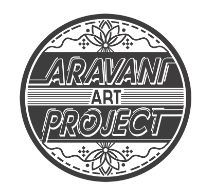 Aravani Art Project is a trans-women and cis-women led art collective and this year's Top 30 Under 30 campaign artist. Aravani's founder, Poornima Sukumar, presented the Top 30 event keynote address. She also presented at the University of Alberta's Global Goals Talks.
International Development Week Reading List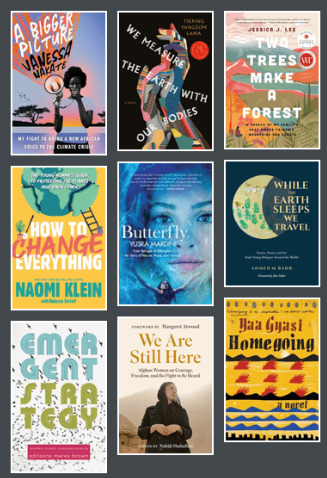 ACGC partnered with the Edmonton Public Library and the Calgary Public Library again in 2023 to highlight diverse voices for International Development Week. Each book list was curated by ACGC staff, with a focus on international sustainable development and aid. Topics include, but are not limited to, gender equality, climate action, refugee experiences, and racism.
University of Alberta – International Week

Attendees had the opportunity to engage with international and local perspectives on global issues during University of Alberta's International Week from February 6-10, 2023.
The Right to Education: Equality for Women in Afghanistan
I-Week Keynote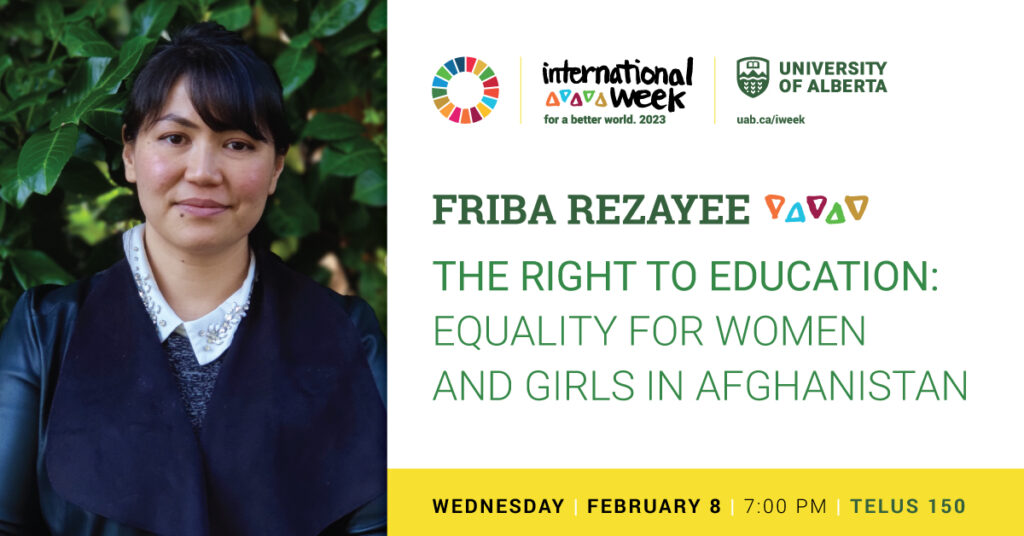 Date: Wednesday, February 8, 2023
Time: 7:00 PM
Location:  Telus 150 – U of A North Campus
(this event was also live-streamed)
Cost: Free
Friba Rezayee was the first Afghan woman to represent Afghanistan at the Olympics and the first woman in her family to obtain a university degree. She spoke about the work of her organization, Women Leaders of Tomorrow, in both Canada and Afghanistan.
She also spoke about United Nations Sustainable Development Goal #5: Gender Equality. She discussed how education supports pursuing this goal and why it is essential. This is the unfinished business of our generation and time.
University of Calgary – International Development Week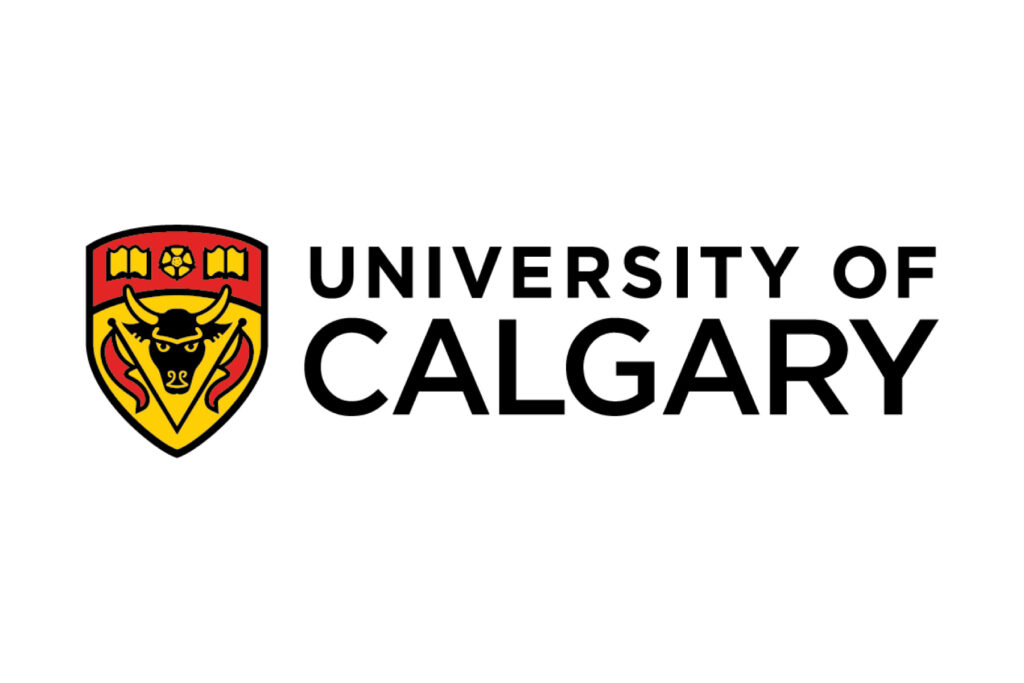 At the University of Calgary, #IDW2023 took place from Feb. 5 to 11. The week aimed to inform, inspire and involve Canadians in Canada's international-development efforts. The unifying theme of Go for the Goals represents a call to action for Canadians to support the achievement of the United Nations 17 Sustainable Development Goals (SDGs).
UofC hosted 3 major events to mark the week:
World's Challenge Challenge: Feb 6th, 12-3pm
Storytelling and the SDGs: Feb 8th 5-7pm
Careers in Sustainability Networking: Online, Feb 9th, 4-6pm
Canadian Women for Women in Afghanistan – Live Virtual Event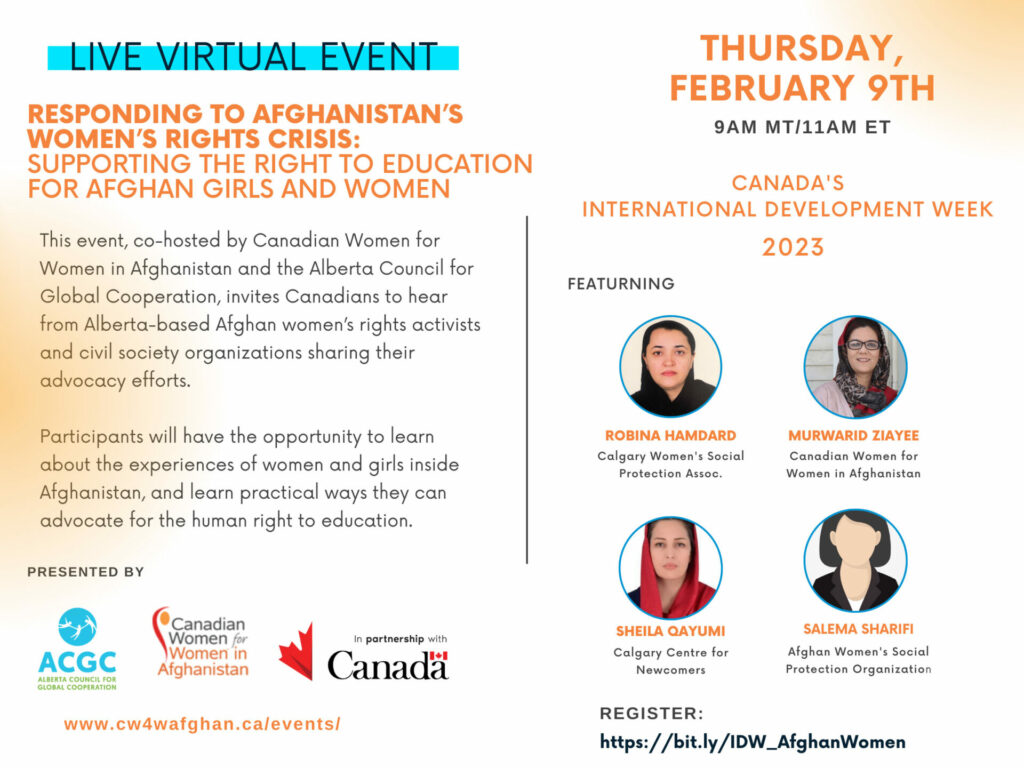 On Thursday, February 9th at 9am MST, Canadian Women for Women in Afghanistan hosted a live virtual event featuring Afghanistan-based and Alberta-based Afghan women's rights activists. Attendees heard about their advocacy efforts and learned how they can support women's right to education in Afghanistan.
The panelists were:
Robina Hamdard – Calgary Women's Social Protection Association
Murwarid Ziayee – Canadian Women for Women in Afghanistan
Sheila Qayumi – Calgary Centre for Newcomers
Wazhma Shekib – journalist and activist
The Micah Centre – SDG Film Viewing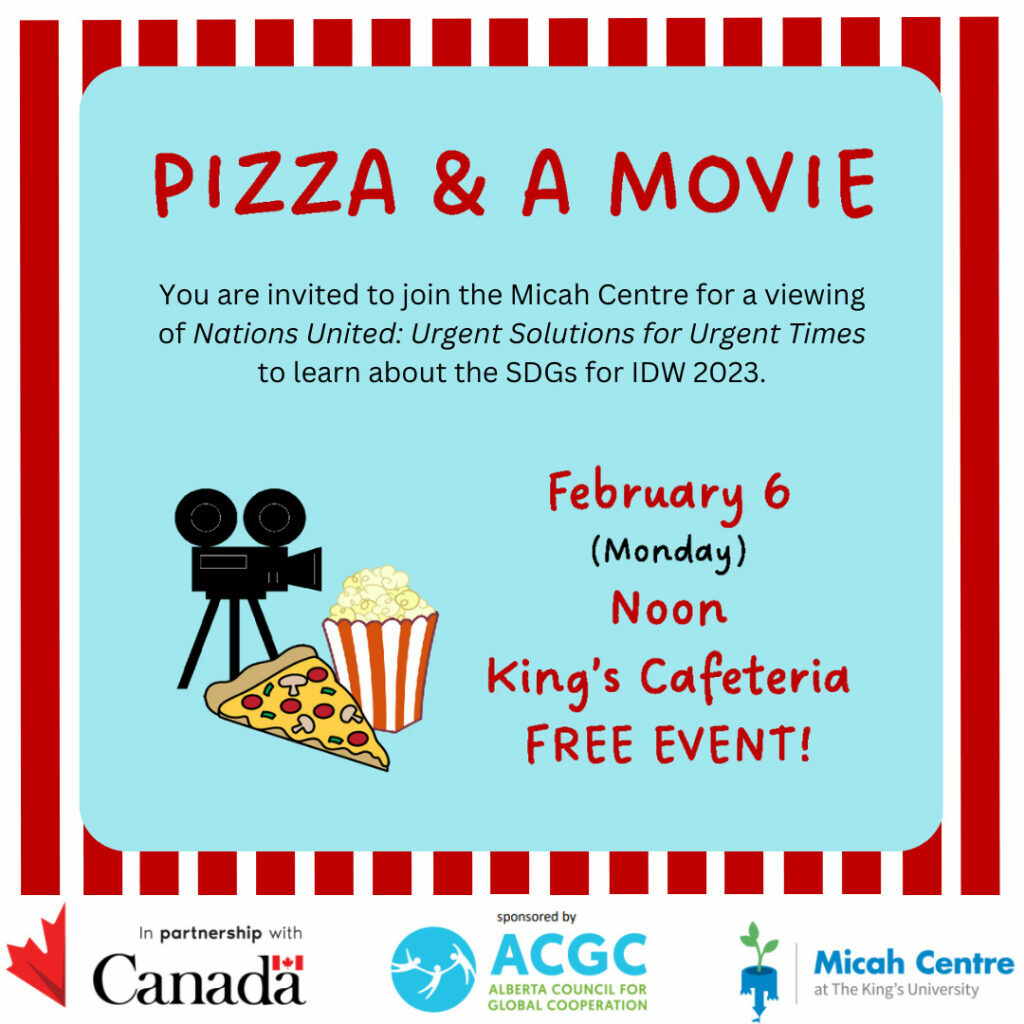 The Micah Centre at King's University hosted a feature viewing of Nations United: Urgent Solutions for Urgent Times.
This took place at The King's University cafeteria at 12PM MST on Monday, February 6th, where attendees learned about work around the world being done to achieve the Sustainable Development Goals and enjoyed a free pizza lunch.
Top 30 Networking with Wanndet Dim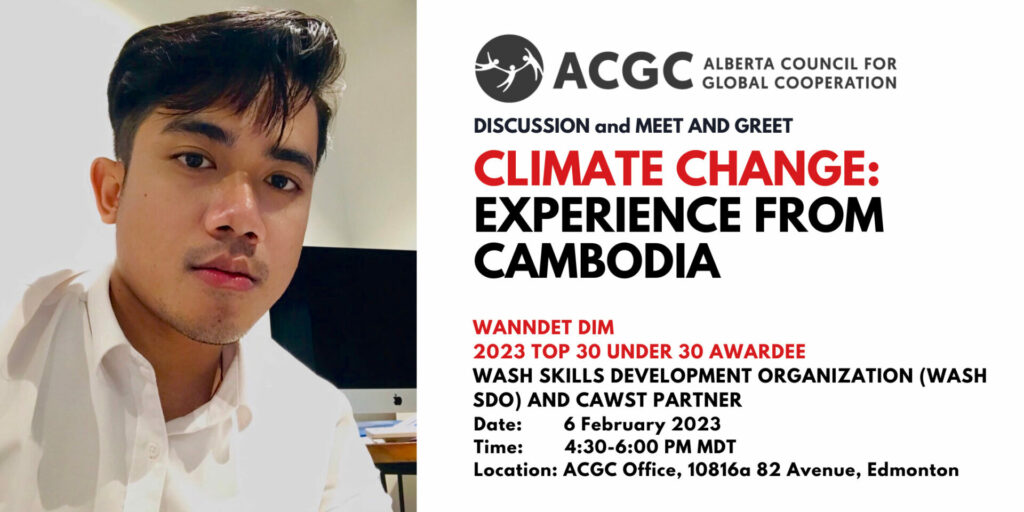 Lunch & Learn with Islamic Relief Canada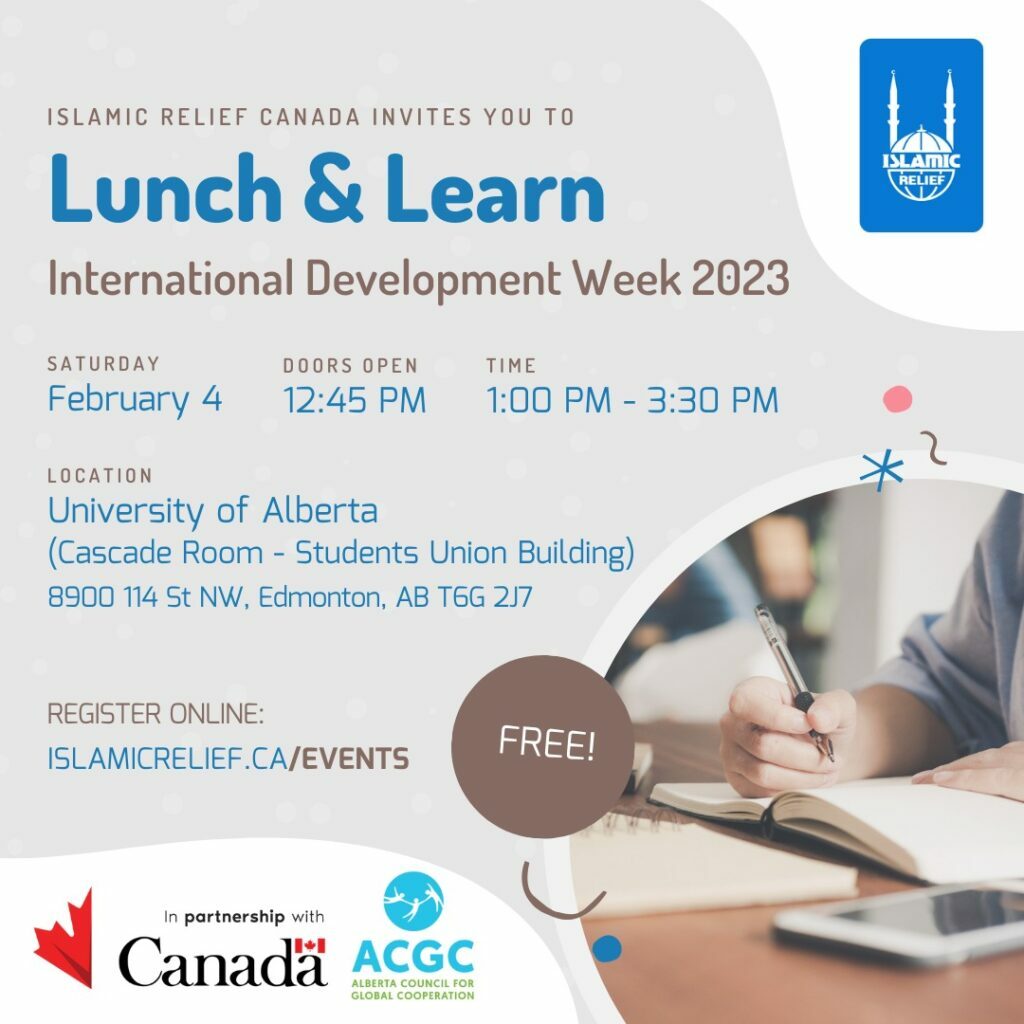 Date: Saturday, February 4th, 2023
Time: 1-3:30PM
Location: Cascade Room, Student Union Building, University of Alberta
Cost: Free
This year, the Islamic Relief Canada team in Edmonton team hosted an info session to showcase Islamic Relief Canada's impact worldwide. The event highlighted Islamic Relief Canada's contributions to international development, followed by a lunch and interactive activity.
Let's Talk International Development!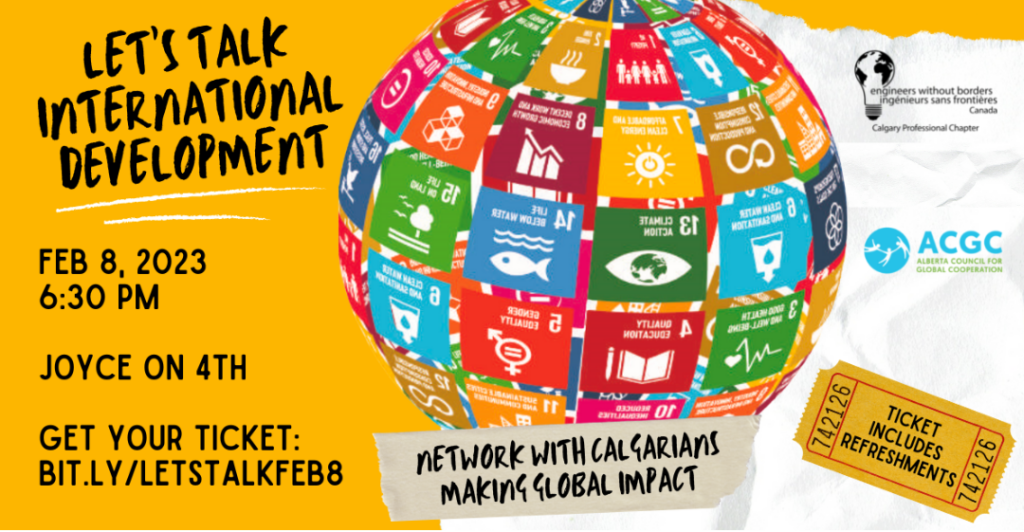 The Calgary Professional Chapter of Engineers Without Borders held an evening of networking, mingling, and refreshments on February 8th!
Attendees heard from a panel of Calgarians who are championing international development work. Then, they got to network with a room full of professionals, from all walks of life, interested in international development, while enjoying refreshments.
Voices on Climate Action Webinar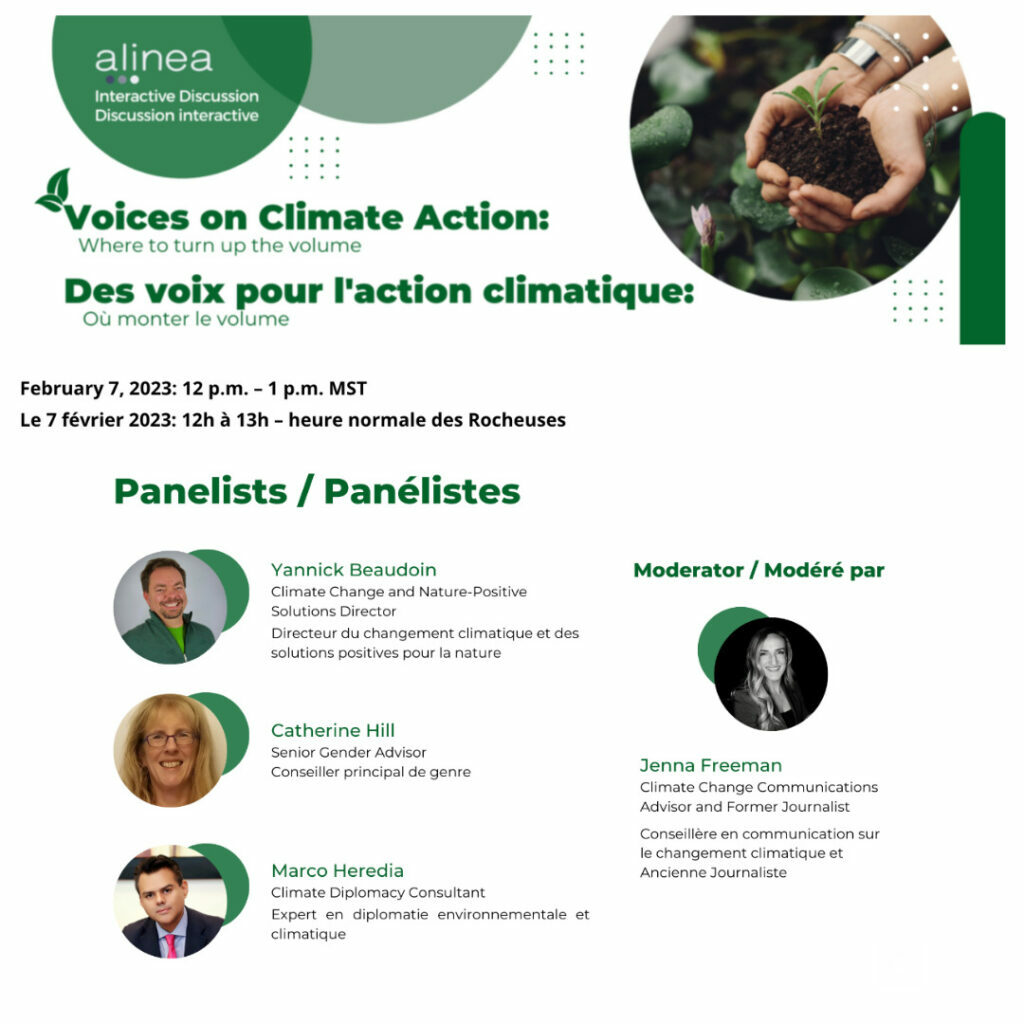 To mark International Development Week, Alinea's thought leaders on climate action came together to amplify the voices on biodiversity and climate change. The event featured an address from Dr. David Suzuki.
February 7, 2023: 12 – 1 pm MST
International Talent and Fashion Show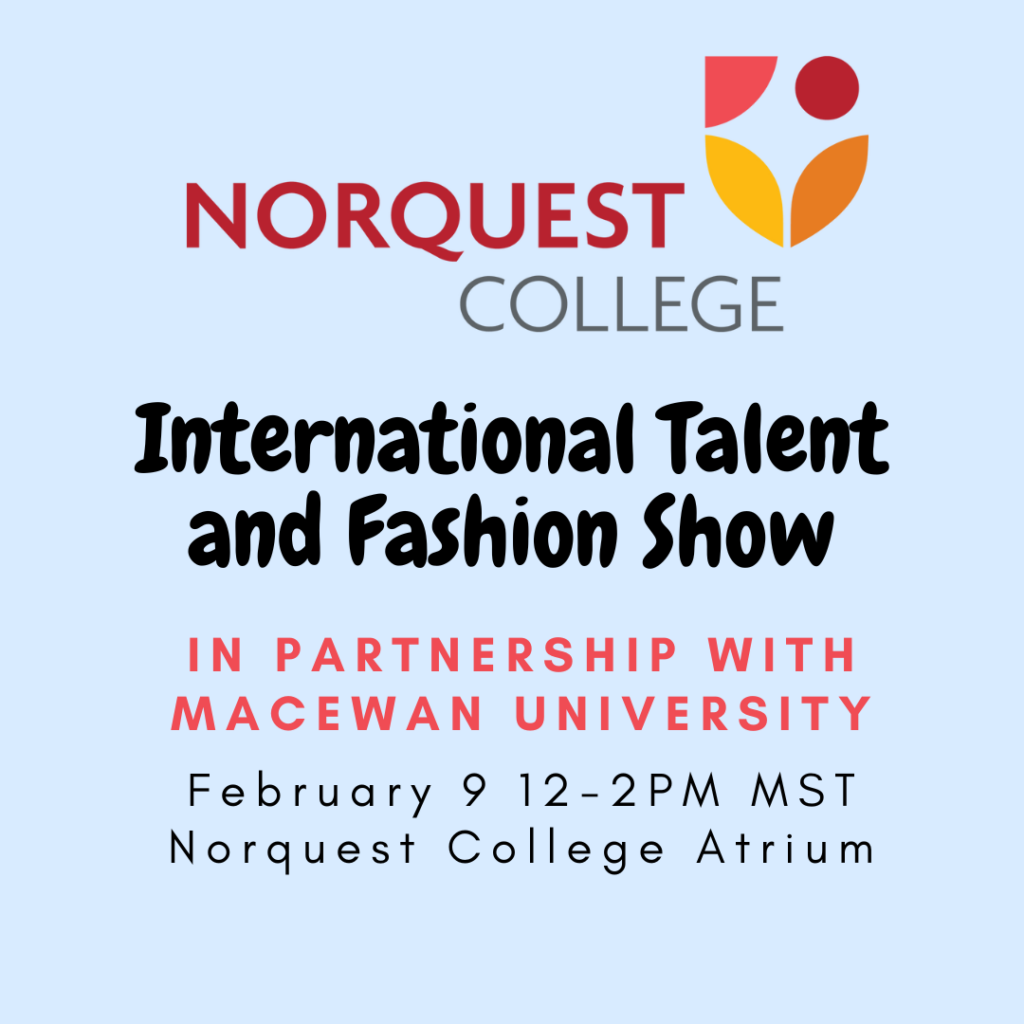 NorQuest International teamed up with MacEwan University International to celebrate cultural diversity in style!
On Thursday, February 9, international students from around the world showcased their fashions, talents and cultures between 12 and 2 pm at the NorQuest College Atrium, 10215 108 St NW, Edmonton.
The event was organized to create awareness around International Development Week, February 5-11, and beginning at 11:00 am members of NorQuest's International Project & Mobility department were also be on hand. The team offered educational activities rooted in the SDGs, showcased their impressive international development work, and answered questions about how to help achieve the SDGs.