Global Health and Beyond: Resilience in Complex Environments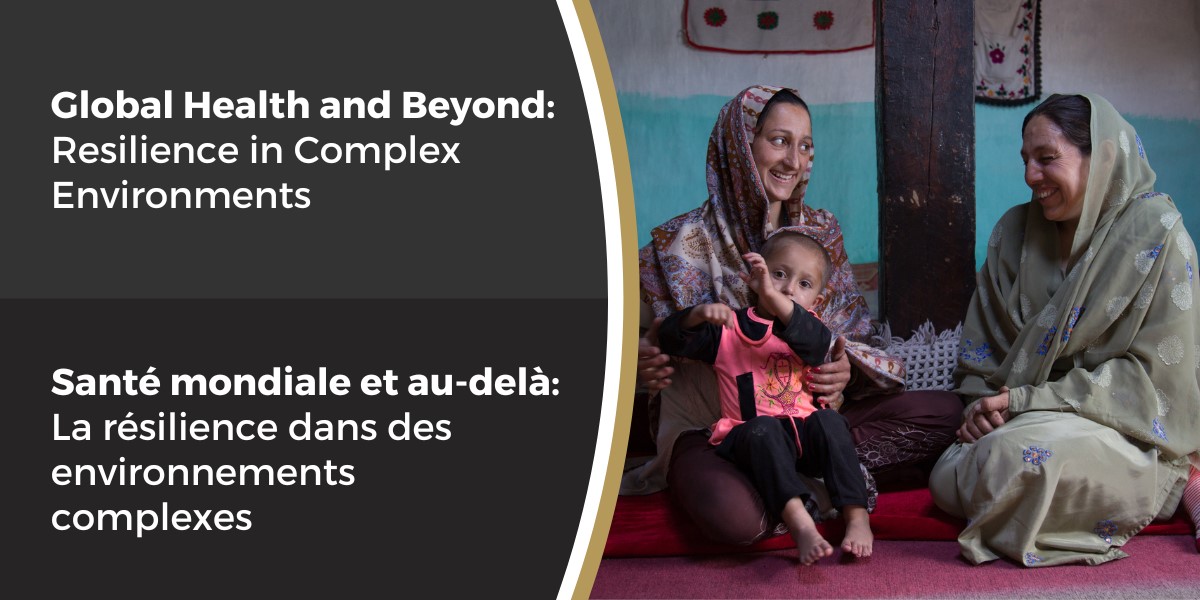 May 1, 2023 2:00 pm
Location:
The COVID-19 pandemic has highlighted challenges and weaknesses in preparedness and response systems at the global, regional, national, and community levels. The effects of COVID-19 are exacerbated by additional forces contributing to complex emergency environments – climate change, conflict, and an increased cost of living. Collectively, these disastrous factors are known as the 4 C's.
The 4 C's place a major strain on the health and nutrition of women and children globally and have demanded increasingly amplified collective action.
On May 1, join Aga Khan Foundation Canada and Canada's International Development Research Centre for an event focused on exploring the 4 C's and the actions and innovations required to strengthen resilience, emergency preparedness, response, and recovery.
The discussion is aimed at:
Better understanding the 4 C's – COVID-19, climate change, conflict, and cost of living – that are gravely affecting the health and nutrition of women and children globally
Creating a space for stakeholders within the international development and humanitarian communities to engage in learning and dialogue on issues related to resilience, preparedness, response, and recovery within complex environments
Additional Information for Attendees
In-person attendees are invited to arrive before 4:00PM to network with other attendees and enjoy some light refreshments
Don't miss this opportunity to meet and greet our speakers!
Questions? Please contact akfc.events@akdn.org
Speakers
Zulfiqar Bhutta, Co-Director, SickKids Centre for Global Child health; Founding Director, Institute for Global Health and Development, Aga Khan University
Dr. Zulfiqar A. Bhutta is Founding Director of the Centre of Excellence in Women and Child Health and the Institute of Global Health & Development, The Aga Khan University as well as the Inaugural Robert Harding Chair in Global Child Health, and Co-Director of SickKids' Centre for Global Child Health. He holds adjunct professorships at several Schools of Public Health including Johns Hopkins University, Harvard, and the London School of Hygiene & Tropical Medicine. Dr. Bhutta leads large research groups based in Toronto, Karachi and Nairobi focused on, scaling up evidence-based community interventions, and implementing reproductive, maternal, newborn, child and adolescent health interventions in humanitarian settings. Dr. Bhutta is a Fellow of the Royal Society, the 2021 IHME Roux Prize recipient for significant research contributions to women and child health and was awarded the John Dirks Canada Gairdner 2022 Global Health Award, one of the most prestigious global health awards.
Fawad Akbari, Director, Humanitarian Innovation, Grand Challenges Canada
As the Director, Humanitarian Innovation at GCC, Fawad is responsible for the ongoing development and implementation of Creating Hope in Conflict: A Humanitarian Grand Challenge (HGC), as well as other potential grand challenges focused on saving and improving lives in conflict-affected areas. He is also responsible for maintaining strategic partnership related to HGC and informing the Canadian and Global humanitarian policies and systems.
Fawad Akbari is a pediatrician, global health, and humanitarian response expert with particular focus on health, nutrition, governance, fragility, and intersection across these themes. Prior to joining Grand Challenges Canada, he was the Regional Deputy Director of Programs and Partnerships with Aga Khan Foundation based in Canada, overseeing a diverse portfolio of multi-sectoral programs and partnerships in Canada and the US, including Global Health, Nutrition and Humanitarian initiatives. Before this, he worked with AKF Afghanistan, Cure International Hospital and Marie Stopes International in different managerial and technical leadership capacities.
Ky'okusinga Kirunga, Executive Director, Amref Health Africa in Canada
Ky'okusinga is the Executive Director of Amref Health Africa in Canada. She has over 15 years of experience in the Canadian and international health sectors, with an intersectional focus on key populations (women, girls, BIPOC, sexual minorities, etc.) and health issues, including the social determinants that underpin them.
Ky'okusinga has held various senior level positions over the last decade including in fundraising, programmatic work and monitoring and evaluation. She has a degree in Languages from the University of Toronto, a certificate in Communications from McGill University, and a Master's in Public Policy and Public Administration from Concordia University. Originally from Uganda and having made Canada her home, Ky'okusinga is proud to bridge the two continents through inspiring and enriching work. Ky'okusinga is an activist, feminist, human rights defender, and internationalist.