Innovations in Advancing Gender Equality: Insights from Canadian Organizations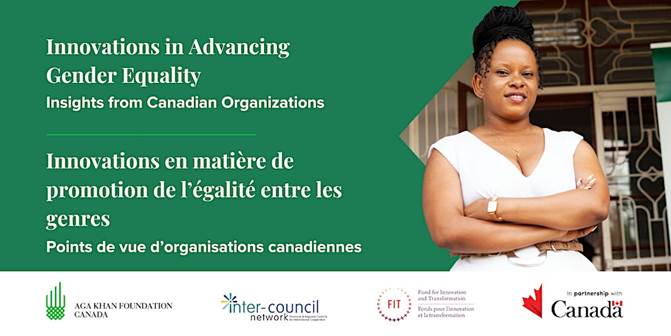 September 26, 2023 3:00 pm
to September 26, 2023 5:30 pm
Location:
Online and in-person.
Delegation of the Ismaili Imamat
199 Sussex Drive Ottawa, ON K1N 1K6
Gender equality stands as an enduring journey marked by steadfast progress amid persistent challenges. By dismantling barriers to education, economic participation, healthcare, and decision-making, gender equality not only benefits individuals but also fosters broader societal advancement. Through initiatives like the Fund for Innovation and Transformation (FIT), the Canadian government has made investments to test innovative solutions to address barriers that impede progress towards gender equality.
In celebration of Gender Equality Week, AKFC and The Inter-Council Network of Provincial and Regional Councils for International Cooperation invite you to a conversation highlighting innovative approaches to advancing gender equality. Learn about FIT projects led by Canadian small and medium organizations and implemented with local partners across various geographies in the Global South.
Additional information for attendees:
Networking/Refreshments: In-person attendees are encouraged to participate in an informal networking session and enjoy refreshments before and after the event.
This session will be offered in English and French
Speakers and Projects
Fadume Gure
Founder, LISS Technologies Inc.
Project: Improving Breastfeeding Rates in Somalia Through Low-Cost, Solar-Powered Electric Breast Pumps
Darcy Ataman
Founder and CEO, Make Music Matter
Project: It Takes a Village: Integration of Men and Boys into Healing in Harmony in Mulamba, DRC.
Aminata Traore
Co-Founder, Alitus Femina Canada
Project: Sexually Transmitted Grades – A Danger for the Future of Girls and Women
Danielle Skogen
Program Development Director, Real Humanitarian
Project: Testing A Holistic Three-Pronged Approach to Violence Prevention & Response
Salima Meherali
Assistant Professor, College of Health Sciences – Faculty of Nursing, University of Alberta
Project: Building Formal Financial and Health Numeracy Among Poor Women in Northern Pakistan