Humanitarian Relief
UPDATED: September 1, 2022
Albertans are encouraged to donate and support urgent humanitarian needs across the globe. See below for links to Alberta and other Canadian organizations responding to urgent needs. Due to the rapid developments of humanitarian crises, ACGC encourages the public to follow information directly from the responding organization.
---
Pakistan Floods Appeal
Over 4.2 million people have been affected by the deadly floods in Pakistan in the worst climate disaster in a decade. Unprecedented heavy monsoon continues to devastate and displace vulnerable communities across the country. One million people have lost their houses, and the death toll from the five weeks of rains has reached 903, half of whom are children and women.
As the situation deteriorates, we desperately need to respond to meet the ongoing and immediate needs of those who have been affected.
Islamic Relief Canada:
Support Islamic Relief Canada's Emergency Response. Donate now
Humanity Auxilium:
Humanity Auxilium is working now to provide medical relief, clean water, food and medications. They're looking to hire local doctors to start medical camps in the affected areas. Donate now
---
Afghanistan Emergency
August 15, 2022 marked one year since the Taliban seized power over Afghanistan. In the 12 months since, the people of Afghanistan have been subjected to a reign of terror which Human Rights Watch has called "the most serious women's rights crisis in the world today."
In honor of the Day of Action on August 15, Canadian Women for Women in Afghanistan invite you to continue to take action with them. Donate now, advocate, and/or sign the petition!
---
Ukraine Emergency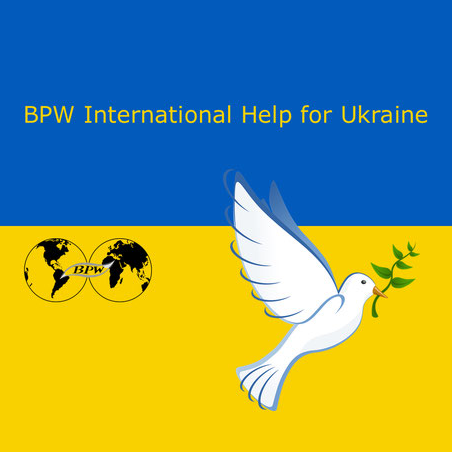 BPW International has an Affiliate Club in Ukraine, BPW Chernihiv. With the fundraising campaign of BPW International, they want to organize help for their club and for women and children refugees.
In doing so, they will see if they can have relief supplies transported. They ask you to report to the President's office information about existing and reliable transport possibilities known to you. In any case, the collected money will benefit the club members in Chernihiv and women and children refugees. BPW International asks for your solidarity and your donation, should it be possible for you. They will continue to inform you about this charity action on their website.

The Russian invasion of Ukraine on February 24 has resulted in loss of life and mass displacement. The conflict that began in 2015 has uprooted 1.4 million people from their homes and destroyed livelihoods. Landmines dot the landscape and cause further threat to people on the move. More than 3 million people are in immediate need of humanitarian aid and the numbers are expected to rise significantly in the coming days.
Members of the Humanitarian Coalition are providing emergency assistance to the people of Ukraine. Donate to help Ukraine today.
---
Ethiopia Emergency

Fearing for their lives and the lives of their families, thousands of people have been forced to flee and left behind everything.
Over 2.5 million people have been displaced since the beginning of this crisis. Many are being sheltered in transit centres near the Sudan border. Over half of the people who have fled their homes are children without any family. This is a full-scale humanitarian emergency.
As the crisis continues, access to clean water, food, medicine and fuel is scarce and people are struggling.  UNHCR continues to work on the ground in Ethiopia and Sudan providing lifesaving support. But they need your help. Donate to Ethiopia today.
---
Haiti Earthquake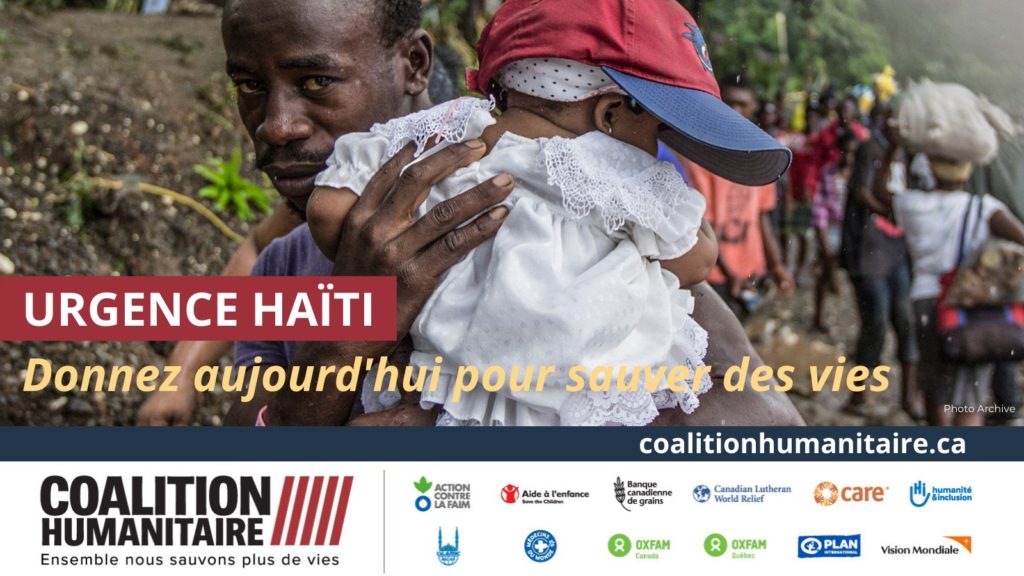 In response to the devastating earthquake in western Haiti on August 14, Humanitarian Coalition members and their local partners are already actively responding by providing life-saving assistance to affected people. Donate to Haiti today to provide Haitian families with life-saving, emergency support.
In order to respond to humanitarian disasters quickly and effectively, the Humanitarian Coalition brings leading Canadian aid organizations together in a united effort to raise funds, partner with the government, and engage the participation of media, businesses and individual Canadians.
Albertans are encouraged to donate directly to the Humanitarian coalition, or may choose to visit the individual organizations website to donate to a specific organization.
Development and Peace, Caritas Canada:
Development and Peace's partners, ITECA and Caritas Haiti, swung into action, sending relief trucks and assessment teams to the affected areas. These are the very regions whose recovery you had generously supported after Hurricane Matthew in 2016
Samaritan's Purse
Samaritan's Purse has flown staff (including Canadians focusing on medical relief) and over 30 tons of relief supplies to Haiti on 15 August, but more aid is needed and that's where you can help through your prayers and donations.
Other:
---
Afghanistan Crisis
Canada has announced the resettlement of up to 20,000 vulnerable Afghan nationals to Canada.
Canada is implementing special immigration measures for Afghan nationals, and their families, who have a significant and/or enduring relationship with the Government of Canada.
Canada will implement a program focused on vulnerable Afghan nationals outside of Afghanistan, including women leaders, human rights advocates, LGBTI individuals, journalists, immediate family members of individuals in Canada and extended family members of previously resettled interpreters.
Read more and contact a local refugee settlement agency to help support resettlement.
Private Sponsorship:
Mennonite Central Committee Alberta (Calgary)
Islamic Family and Social Services Association (Edmonton)
"Right now, our staff in Canada are working around the clock to ensure the security of vulnerable groups in Afghanistan, and supporting their safe departure from the country. We are also planning a response to the heightened humanitarian crisis with the influx of internally displaced persons (IDPs) who arrived in Kabul prior to the Taliban capture of the city. Many thousands of people are without adequate shelter and basic needs, including women and children who are disproportionately represented among the IDPs.  Donate
Since July, over 10,000 displaced people have officially arrived in the capital Kabul, and thousands more are reportedly staying in the open making them especially vulnerable. Assessments are ongoing elsewhere such as in Nangarhar where 28,000 people from Kunar have reportedly been displaced. Islamic Relief is on the ground and has initiated an emergency response. Donate
Other
---
Humanitarian Crisis in Palestine
The escalation of conflict in the Spring of 2021 has amplified the existing humanitarian crisis in Palestine. Access to basic services is compromised and there is increasing need for medical supplies, food, clean water, psychosocial and economic empowerment. (Humanitarian Coalition)
Islamic Relief
Even though tensions are extremely high and the pandemic is ongoing, Islamic Relief is ready to help Palestine now. Islamic Relief will provide lifesaving care in areas where the health system is struggling to cope.
Learn More
Humanity Auxilium
Humanity Auxilium continues to provide updates on our medical reliefs through our social media and website. May 24 Webinar – Medical Relief for Palestine
Mennonite Central Committee Canada
MCC will be working with partners to provide emergency relief to people affected. MCC staff and partners are assessing the situation and planning a response that will likely include emergency food, hygiene supplies, household items, housing reconstruction, and trauma healing.
Care
In close partnership with four local civil society organizations, Care  conducts the OBADER project, funded by the Government of Canada: Learn More
Save the Children
Almost 60 children killed in Gaza in the last week alone: Read Media Article