ACGC Annual Conference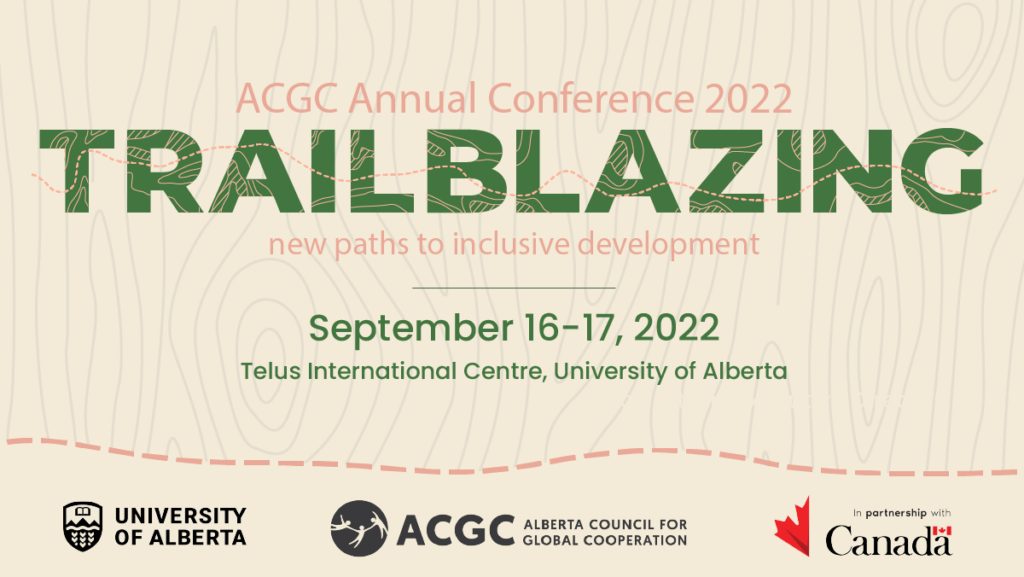 Across the world, it is becoming clear that "business as usual" approaches to social and economic development are falling short in achieving sustainable development. In order to ensure that "no one is left behind", practitioners and organizations are experimenting, designing, and testing social innovations to tackle poverty and inequality around the world. Through social innovation, we are able to drive for more impact, try new and improved solutions, and achieve better results.
"The Government of Canada defines innovation in international assistance as a process, mindset, and means to enable new or improved locally driven solutions. The aim is to achieve better results and to have a greater impact. It benefits and empowers the poorest and most vulnerable, including women and girls".
ACGC's 2022 Annual Conference aimed to showcase this trailblazing towards inclusive development happening in Alberta. For example, through the Fund for Innovation and Transformation, 10 Alberta partnerships have walked new paths alongside communities, testing innovative solutions to a wide range of development challenges across the world including eliminating child marriages, training community health workers, and launching mobile clinics. In addition, Alberta organizations have developed new approaches to their work, and are creating spaces for youth to experiment with new ideas, many of which have been celebrated through ACGC's Top 30 Under 30.
The Trailblazing New Paths To Inclusive Development conference provided a space to recognize and learn from Albertans, international development organizations, and youth who are leading the way in designing and testing social innovations at home and abroad. We convened the sector to share ideas on how Albertans can make new partnerships and collaborations to address the challenges faced by communities across the world in achieving the Sustainable Development Goals.
Finally, through this conference, members of the international development sector were challenged to think critically about where current innovation approaches fall short in achieving inclusive sustainable development for women, girls, and the most vulnerable in Canada and around the world. Conference attendees were encouraged to reflect on anti-racism and anti-colonialism, to ensure that new approaches to development are inclusive, collaborative, and do no harm.
View the live recordings of each session at the link in their respective sections below!
Event Details
Location: Edmonton
Venue: University of Alberta, Telus Centre
Dates: September 16 – 17, 2022
During this two-day hybrid annual conference, participants were encouraged to engage in reflective and deep conversations, whilst learning from each other and having an opportunity for topic-focused Q & A sessions with sector experts.
View the live recordings of each session at the link in their respective sections below!
Friday, September 16
Innovative Financing for International Development Panel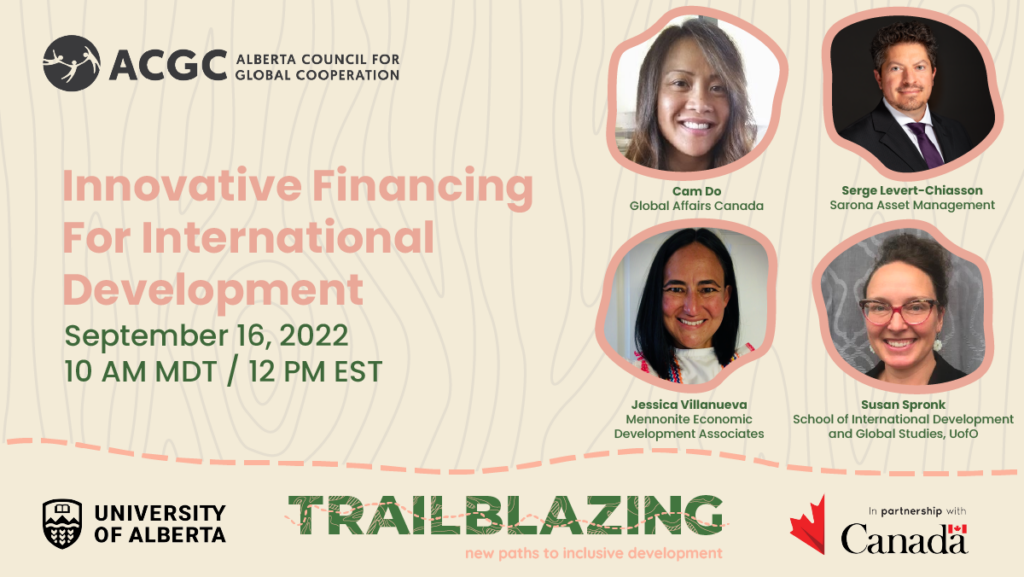 Watch this session's recording here!
Speakers:
Jessica Villanueva – Mennonite Economic Development Associates (MEDA)
Serge Levert-Chiasson – Sarona Asset Management
Susan Spronk – School of International Development and Global Studies, University of Ottawa
Cam Do- Climate Finance, Global Affairs Canada
The term "innovative financing for development" has emerged in recent years to describe new ways funding organizations are channeling resources towards development, beyond traditional grant contributions. The term refers to "financial structures and mechanisms that mobilize, govern or distribute funds beyond traditional donor-country ODA". Innovative financing relies on creating new types of partnerships with new and diverse actors, and is intended to narrow the gap between current resources available and the resources needed to achieve sustainable development (GAC Guidance)
This panel discussion focused on funding organizations and the approaches to innovative financing that they are taking. It focused on how funders are collaborating with communities to leverage locally driven solutions; the diverse and non traditional funding and investment mechanisms they are using, and the types of partnerships they are creating to mobilize resources. The discussion ended on how Albertan organizations can position themselves to align with innovative funding streams..
Trailblazing in Action: Innovation Fair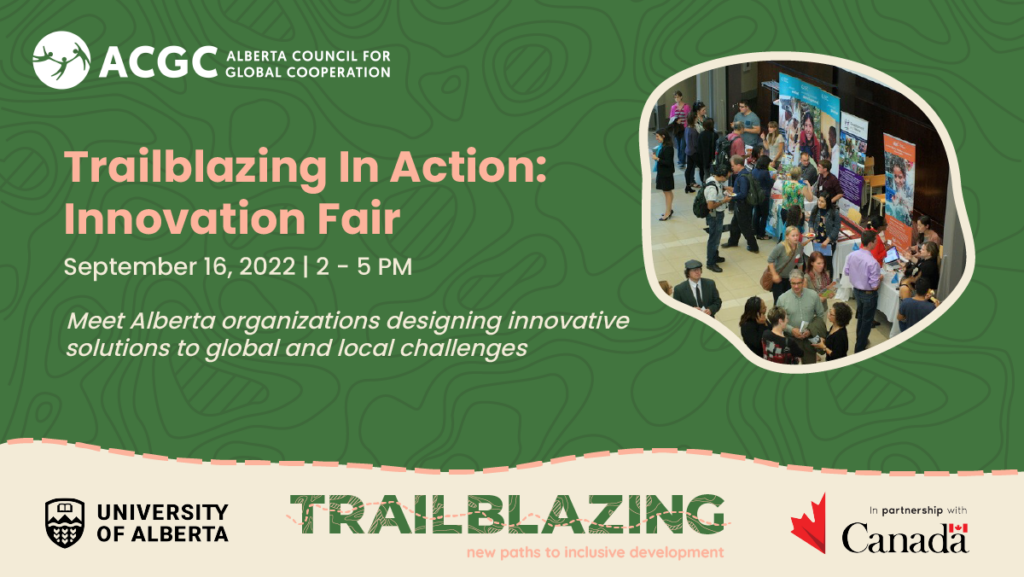 At this fair, local and international non-for-profits modeled ways that Albertans and their partners are experimenting, designing, and testing social innovations both locally and globally. Attendees had the opportunity to exchange ideas with organizations as they navigated through a range of facilitated "innovation stations."
The following is a list of organizations that facilitated "innovation stations" at this fair:
Keynote and Evening Reception with Alix Peterson Zwane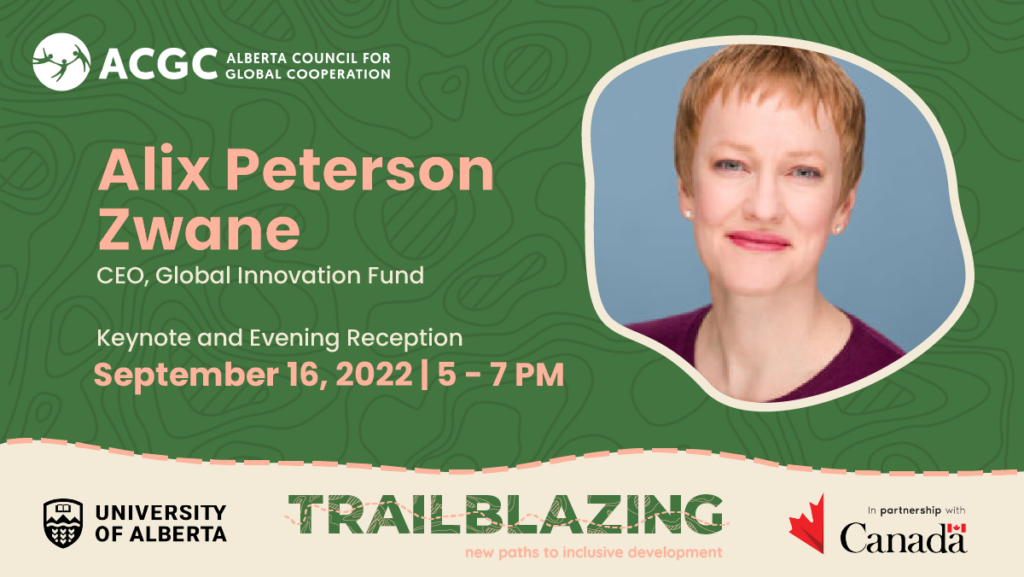 Watch this session's recording here!
ACGC staff, members, and the international development sector joined together for an evening reception and keynote address by Alix Peterson Zwane, CEO of Global Innovation Fund.
Alix Peterson Zwane is Chief Executive Officer of the Global Innovation Fund, a hybrid investment vehicle that accelerates evidence-based innovation through early-stage debt and equity investing, as well as grant-making. GIF is backed by leading bilateral aid agencies, corporates, and foundations and contributes to filling the pioneer gap between development assistance and development finance. Alix has 20 years of experience advancing the agenda of evidence-based aid and international development as an investor, a social entrepreneur, and an innovator. She was the first employee and Executive Director at Evidence Action, a non-profit that develops service delivery models to scale evidence-based programs. Under Alix's leadership, Evidence Action catalysed school-based deworming for hundreds of millions of children around the world, and safe drinking water for millions of people in four countries. Alix has also advocated for evidence-based philanthropy at the Bill & Melinda Gates Foundation and Google.org, where she set strategy, made investments to support new public service models that work for the poor, and developed models for outcome-based grant-making. She was a member of the faculty of the Agricultural and Resource Economics Department at the University of California, Berkeley and has published in Science, Proceedings of the National Academy of Sciences, the Quarterly Journal of Economics, and elsewhere. She holds a Ph.D. in Public Policy from Harvard University and is a World Economic Forum Young Global Leader and a Non-Resident Fellow of the Center for Global Development. Born and raised in Colorado, she divides her time between Washington, D.C. and London.
Saturday, September 17
Voice and Inclusion in Social Innovation Panel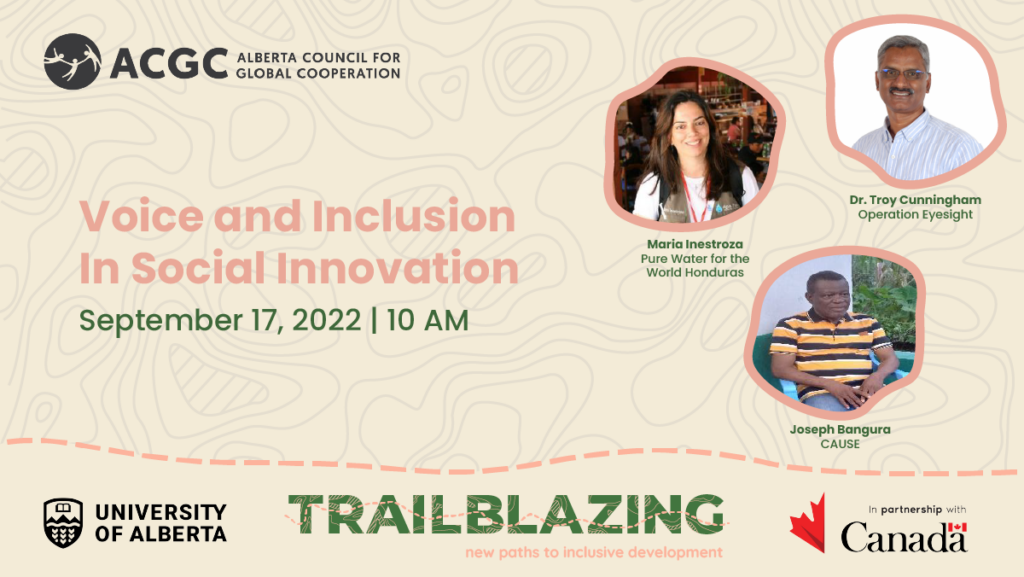 Watch this session's recording here!
Speakers:
Maria Inestroza – Pure Water for the World Honduras (CAWST Partner Org)
Dr Troy Cunningham – India (Operation Eyesight)
Joseph Bangura – Sierra Leone (CAUSE Canada)
Edda Muller – Nicaragua (Change for Children
Innovation in international development has meant moving away from "business as usual" approaches and seeking new ways to partner and collaborate with communities facing challenges. This presents an opportunity to address issues of inclusion, anti-racism and equity in international development programming. This panel was a reflection on strategies used by organizations to be inclusive and to centre communities, particularly women, girls and the most vulnerable in the design and testing of social innovations, and how this impacted outcomes and sustainability. We had the privilege of hearing from partners of FIT Funded ACGC Member organizations from around the world, who spoke about their experiences collaborating with Albertan organizations to design and test sustainable development approaches.
Indigenous Led Innovations; A Keynote by Mariam Wallet Aboubakrine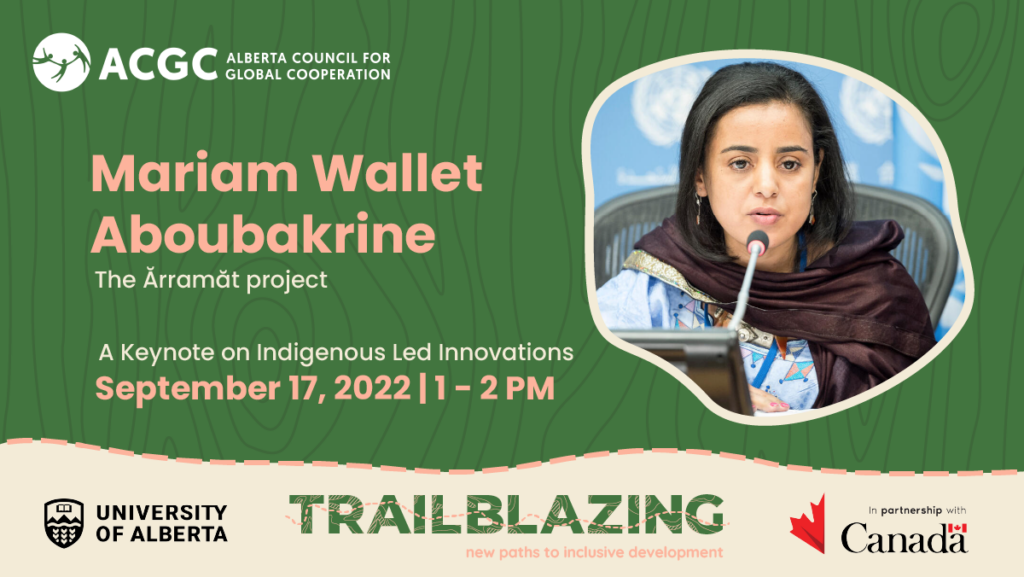 Watch this session's recording here!
Speaker: Mariam Wallet Aboubakrine – The Ărramăt project
For millenaries, Indigenous Peoples around the world have been leading the way in social innovations that are based on deep knowledge and understanding of the land, environment, and how communities organize and work together. In this keynote, we had the privilege of hearing about Iindigenous led research as a transformative and innovative solution for the health and well-being of all. This discussion focused on the space Indigenous women and gender diverse people, youth and leaders and their partners have carved out to innovate, the barriers they have worked to overcome and the incredible impact of their contributions for more balanced and healthier communities.
Marimba in the Afternoon with Sihle Sizwe Youth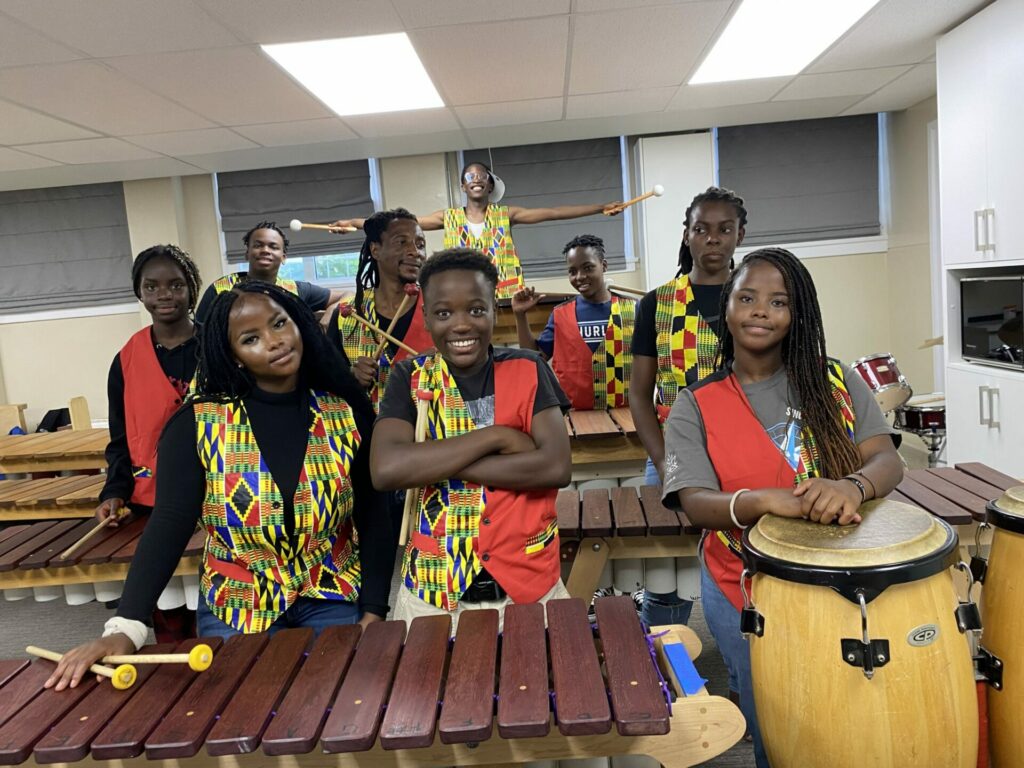 Our conference came to a close with a magical afternoon of traditional Zimbabwean music performed by 12 youth who are part of the Sihle Sizwe Foundation, an ACGC member organization. 
Sihle Sizwe continues to find innovative ways to keep Zimbabwean culture and identity alive within Edmonton by working with enthusiastic youth who have become part of musical youth ensemble. The objective of this group is learning, developing and exploring musical genres that combine diverse percussive rhythms with Zimbabwean Marimba tradition in a new and exciting way. The development of music is youth driven and the process is mentored by Paul Mpofu who recently joined Sihle Sizwe from Zimbabwe. Performances become opportunities for the youth to express their understanding of the music and share with audiences in Edmonton. The youth ensemble presents their music to fundraise for charities in communities and also participate in local festivals.