Global Citizenship Education
ACGC understands Global Citizenship to be an ethos, a way in which to see and understand the world. It refers to a sense of belonging to the global community and common humanity, with its presumed members experiencing solidarity and collective identity among themselves and collective responsibility to act at the local and global level.
– Adapted from UNESCO: Global Citizenship Education: An Emerging Perspective (ED/2013/PSD/PHR/PI/4)
ACGC provides various professional development opportunities for educators and the public to devleope their skills in global citizenship education. To hear of upcoming opportunities, subscribe to our Teach newsletter.
CURRENT OPPORTUNITIES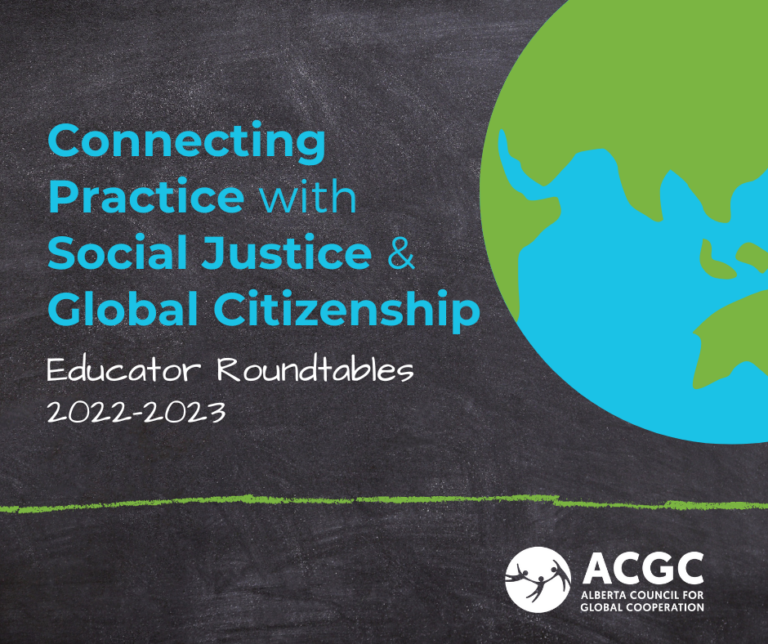 Educator Roundtables: Connecting Practice with Social Justice & Global Citizenship
From October 2022 to June 2023, ACGC welcomes teachers from across the province to participate in Educator Roundtables. Sign up here.
Participants will join discussions with other educators around the province who are passionate about connecting and expanding students' engagement with local and global realities. The aim of these roundtables is to provide a collaborative forum for participants to learn from each other's lived experience, share best practices, and explore new ideas in a safe space of mutual trust and respect.
Contact Bill Howe to learn more.