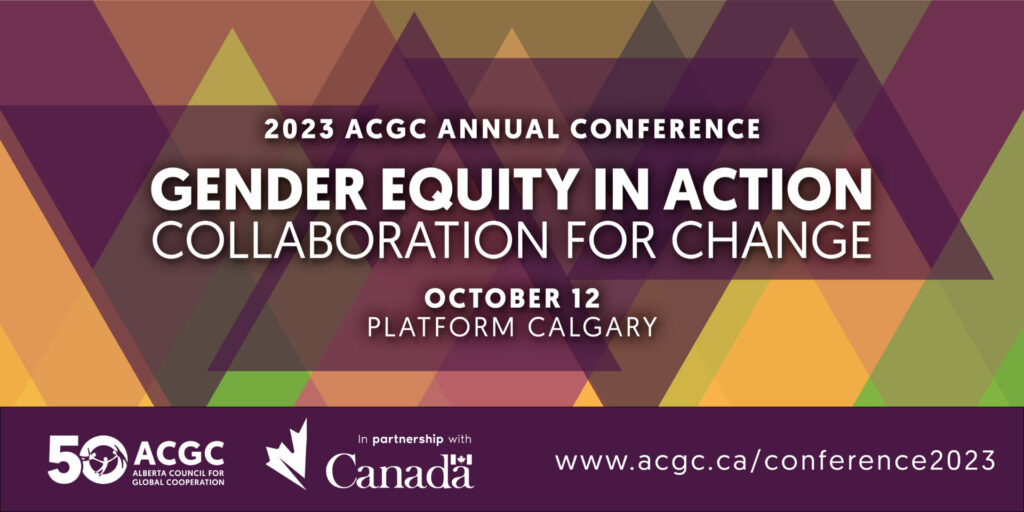 With only 7 years remaining in our collective global pledge, Canada ranks only 29th out of 193 United Nations member states in progress to achieve all 17 Sustainable Development Goals by 2030.
Canada has the capacity and ability to do more nationally, but we also have a responsibility to work in solidarity with other countries to also help them achieve the goals in their own contexts.
Alberta and Albertans have been making significant contributions to the attainment of the goals internationally largely through the dedicated and multi-faceted NGO and civil society sector. The Alberta Council for Global Cooperation (ACGC) is proud to be a connector and convener for a diverse network of sustainable development and international cooperation organizations and partnerships, based in Alberta, with connections both nationally and abroad.
The 2023 Alberta Council for Global Cooperation Annual Conference is an opportunity to learn from engaging speakers and to collaborate and network with Alberta-based individuals and organizations committed to making the world more sustainable and just for all.
This year's conference explores how to bring diverse folks together to address gender equity challenges- and create collaborative, community-centered change.
Join us on October 12th to learn about Canada's Feminist International Assistance Policy, community-led international cooperation in action, and more.
The conference will be held in person at the Platform Calgary Innovation Centre. For guests unable to attend in person, the opening, keynote presentation, and panel will be livestreamed.
Lunch will be catered for in-person guests.
Registration is open to ACGC Members, organizations working in international cooperation or towards the SDGs, and anyone from the general public interested in learning about the sector and gender equity.
Spaces are limited- sign up today!
We look forward to seeing you on October 12th!
---
EVENT DETAILS
Date: October 12
In-person Conference Time: 10:00am to 5:30pm (Full Schedule Coming Soon)
Online Conference Time: 10:30am to 12:45pm (Full Schedule Coming Soon)
Location: Platform Calgary Innovation Centre – 407 9th Ave SE
Cost: Free
---
If you have any questions or concerns, please reach out to wayne.brook@acgc.ca.
This event is undertaken with the financial support of the Government of Canada provided through Global Affairs Canada.